Composed originally for string quartet, this is the string orchestra arrangement of the first movement of an as-yet-unfinished multi-movement work, the "Red Wolf Quartet".
This movement is structured in a very careful Sonata Allegro form, and includes nods to the compositions of John Williams, primarily the energetic rhytmic motif that opens the piece (similar to rhythms from John William's "Superman" theme or "Imperial March").
Composed using the letters of the words "Red Wolf" (D-E-D-B-O-E-F see "AHOV Grid" below), the first theme is heroic and angular, leaping to great heights before coming back down with a retrograde arrangement of the theme's opening notes. The second theme is smooth and flowing, adding triplets to provide even more rhytmic interest.
This string orchestra arrangement of the movement provides fun "classic film score" emotions while providing an introduction to classical musical forms and theories.
To be premiered by the Tualatin Valley Symphony, February 5, 2022.
(NOTE: This work was originally graded as a 3.5 but has been lowered to 2.5 after feedback from players and educators. Double stops can be played divisi or can provide additional technique learning for students.)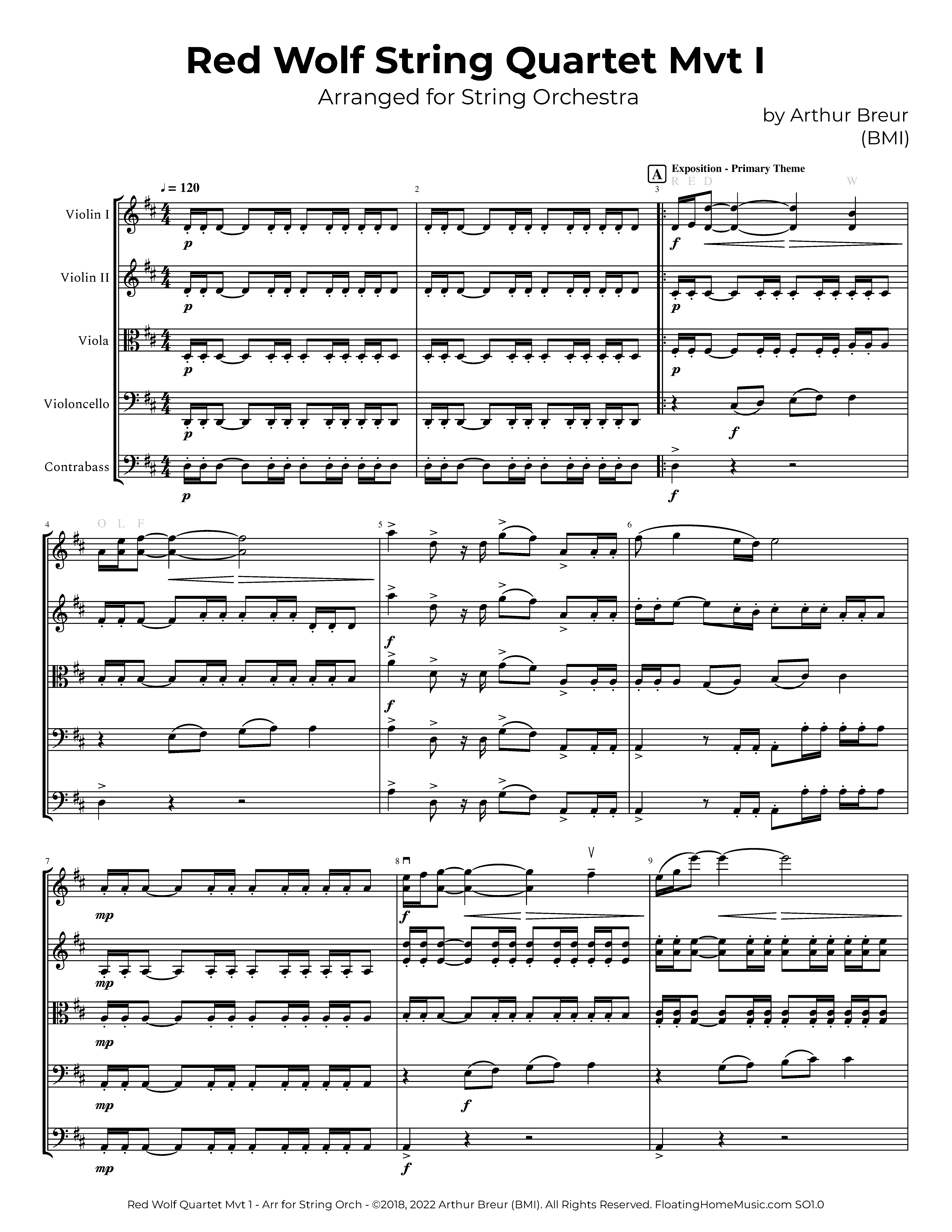 Full score and parts are easily printed on regular "letter" or equivalent size papers. This score does NOT require printing on oversize (tabloid, legal, etc.) paper for legibility.
INSTRUMENTATION
String Orchestra:
Violin 1 & 2
Viola
Cello
Contrabass
DURATION
4m14s
COMPOSER
Arthur Breur
FORMAT
Score, Set of Parts, PDFs, compressed in ZIP format
GENRES
21st Century
Contemporary Classical
Neo Classical
Film Score

LEVEL
Grade 2.5 / Intermediate